As you age, it becomes all the more important to be mindful of the foods you are eating. This is because diet plays such a huge role in keeping your body and mind healthy and sharp. While incorporating various foods such as fruits and vegetables is a great start, not all foods are created equal. In fact, some are even classified as 'superfoods', which is a nutrient-rich food thought to be especially beneficial for health as well as well-being.
If you are concerned about your diet and staying healthy well into your golden years, know you are not alone. As a resident of the Jacksonville senior apartments, continue reading this blog for some vital information you won't want to miss out on!
1.) Fish and seafood
Living in Florida, you'll find no shortage of fish and seafood, and that's a good thing! As a matter of fact, fish is a brilliant source of omega-3 fatty acids, both Vitamin B2 and Vitamin D, and is also rich in phosphorus and calcium. As an added bonus, eating fish and seafood is also a tasty way to eat protein while also consuming fewer unhealthy fats.
Speaking of fats – did you know that the fat of fish is actually very healthy for you? It's true! Fatty fish are home to a higher natural amount of omega-3s, which is vital for keeping your heart and your brain healthy. These are two of the organs that older adults worry about the most, especially those with a family history of heart disease or dementia.
While there are many great choices out there as far as which fish you should add to your meal prep cycle, we have a few recommendations. Salmon, trout, tuna, herring, sardines, and oysters are all healthy options you can try!
2.) Walnuts and Other Tree Nuts
In dessert or as a snack while hitting up the local walking trails near Jacksonville senior apartments, either way, you can't go wrong with adding walnuts or other tree nuts into your diet! As a superfood, walnuts are very good for your eyesight and can bolster your overall eye health.
This is because walnuts contain an abundance of omega-3 fatty acids and Vitamin E. When they combine forces and work together, these nutrients help to prevent cataracts and other age-related eye issues. When left unchecked, free radicals can do some serious damage to your vision! Thankfully, Vitamin E works to keep free radicals in their place
Tree nuts in general are a great source of protein and antioxidants, though if you want to get the power of omega-3 fatty acids on your side, definitely try walnuts!
3.) Raspberries
If you have Thanksgiving foods on your mind already, then be sure to incorporate raspberries into the desserts you make to share with your family and friends. Why is that, you might be wondering? This is because raspberries aren't just a delicious sweet treat – they're a superfood. Full of fiber and rich in antioxidants, this powerful little fruit bolsters the immune system, promotes colon health, and can help fight free radicals.
When residing at Jacksonville senior apartments, don't skip out on including raspberries into your diet. Make a refreshing raspberry tea, bake a raspberry pie, or prepare raspberry tarts to share with your other residents. No matter what your preferred way to consume raspberries is, you are sure to reap the health benefits of this superfood!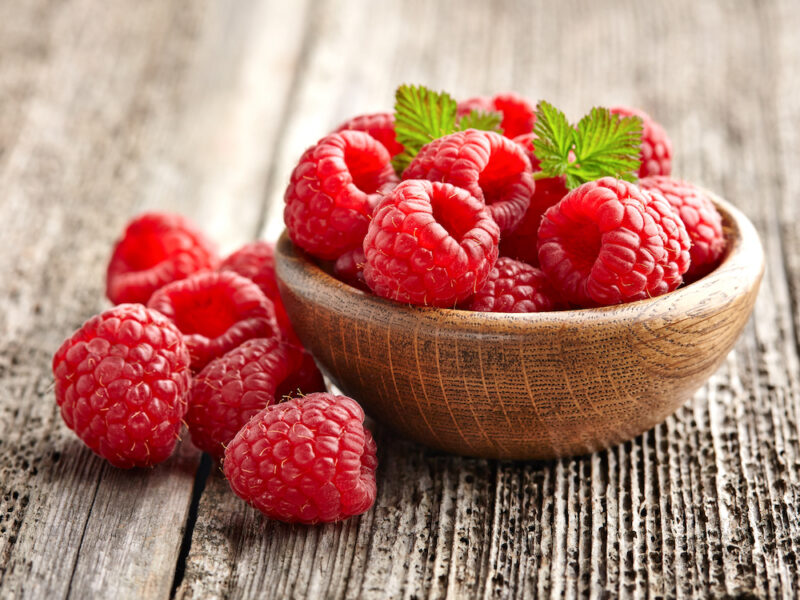 4.) Swiss Chard
It is no secret that dark, leafy greens are extremely good for you! A few that you might commonly think of include kale, spinach, and if you've lived in the south any amount of time, collard greens. While these are all excellent sources of protein, vitamins, minerals, and antioxidants, have you ever considered Swiss chard
If you're looking to switch up your diet, then you should consider trying Swiss chard! This leafy green is low in calories and high in antioxidants that can fight off those pesky free radicals. You will also find that it has an abundance of Vitamins A, C, E, and K. If you are unfamiliar with Vitamin K, it has a multitude of health benefits, including aiding with blood clotting and promoting bone health. Calcium, magnesium, fiber, and iron are all found in Swiss chard as well.
5.) Avocados
One food that has received a lot of attention over the past few years is avocados. However, you don't have to be a millennial putting avocados on your toast to enjoy this superfood! Did you know that avocados contain even more potassium than a banana? Potassium is an important mineral that helps lower your blood pressure and improve your cardiovascular health. Plus, like fish, avocados contain a good kind of fat which can help you lower your cholesterol
The next time you go to prepare a dish, see how you can include avocados in what you are making. Avocados are also the primary ingredient in guacamole, which is a delicious dip that can be served while watching a football game on TV or as a snack to tide you over before a big meal during the holidays. The possibilities are endless when it comes to avocados!
Healthy Diet for the Elderly
While the days of routinely eating junk food may be behind you, that doesn't mean you have to sacrifice taste! All of the aforementioned foods aren't just good for your body and your mind, but they are delicious to eat as well. When living at the Jacksonville senior apartments, you can take a cooking class or have a potluck party with a group of friends! Just remember that eating healthy doesn't have to be boring.
Jacksonville Senior Apartments
Here at our Jacksonville senior apartments, we understand the very important roles that diet and nutrition play in the overall health and well-being of our residents. Our seasoned and professional culinary team is here to provide you with a high-quality dining experience. Since we strive to support local farms and fisheries, our menu options reflect the local cuisine, and utilize fresh and seasonal local produce whenever possible.
Are you interested in learning more about Inspirations at Town Center? Then feel free to contact us today to schedule a tour or to ask any questions you may have!