February is American Heart Month which means it's the perfect time for people of all ages to take a closer look at their cardiovascular health! Yes, even seniors can benefit from making a few heart healthy changes to their lifestyle. It is never too late to prioritize your cardiovascular health and take the measures necessary to add precious years onto your life. That is why here at Inspirations at Town Center, our senior housing independent living in Jacksonville has taken the opportunity to compile a few great tips you won't want to miss. Continue reading to learn more!
#1.) Participate in Heart Healthy Activities
It is no secret that staying active is extremely beneficial to bolstering your overall health and well being, but did you know just how much it can have a positive impact on heart health? For seniors, you should consult with your doctor prior to starting a new exercise routine just to make sure you have the all-clear. That being said, we have listed below some of the best heart-healthy activities that are perfect for individuals of all fitness levels.
Walking for even 20-30 minutes a day can get your heart pumping and your body moving. If you are a resident at Inspirations, then you can enjoy the beautiful Florida weather all year round! Head down to take your dog for a walk along the beach or grab a friend to go for a stroll around the local nature trails. On rainy days, hit up the fitness center and work out on one of the many cardio machines featured there.
Cardio doesn't have to be boring! Jazz things up by taking a dance class with your partner or a good friend. Dancing is an excellent cardio activity that makes working out all the more fun. Plus, you'll be learning a new skill on top of it all!
Do you struggle with arthritis or other medical conditions that cause joint pain and stiffness? If so, you know that doing traditional exercises, such as walking, running, or dancing, can be extremely difficult. This is where water aerobics comes in handy! Water naturally takes the pressure off your joints as you move, which decreases your pain as well as your risk for falls. 
Our senior housing independent living in Jacksonville features many great luxury amenities, including an on-location tennis and pickleball court. Even if you are new to these sports, they can be a fun and exciting way to stay in shape and get more exercise! The required equipment is minimal – all you need is a pair of sturdy tennis shoes, a racket, and a few balls to get started.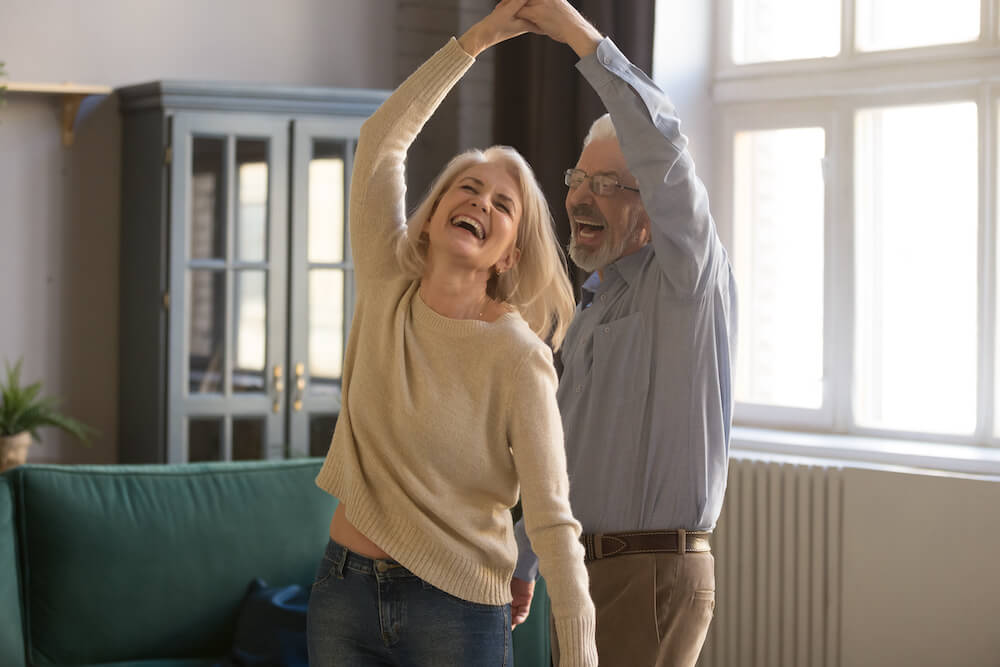 #2.) Kick the Habit
Smoking is one of the worst things that you can do for heart and cardiovascular health. While it is easier said than done, kicking the habit will considerably prolong your life and drastically increase your overall health. Thankfully, you don't have to go at it alone! There are many resources available online that can help you. Schedule an appointment to speak with your doctor as well. They may be able to prescribe medication or can point you in the direction of support groups. 
#3.) Eat a Healthy Diet
Food doesn't just exist as a way to make life more enjoyable, it is actually there to serve as fuel for our bodies! That is why what your diet looks like truly matters. While you should spend the golden years of retirement enjoying the finer things in life, don't forget to also prioritize your health at the same time. 'Everything in moderation' is a good motto to follow. 
With that in mind, there are some heart-healthy foods that you will absolutely want to include when planning your meals for the week:
Florida is home to a wide variety of fish options, including delicious fatty fish! This type of fish is an abundant source of 'good' fats, including Omega-3 fatty acids which are essential to heart health. Tuna, salmon, mackerel, herring, trout, and cod are all great examples of fatty fish.
Looking for a heart healthy way to kick off your day? Try having oatmeal for breakfast several times a week! Whole grain oats are not only hearty and filling, but they are extremely good for you. Add in some fresh fruit for an extra boost of your daily vitamins and minerals.
Any kind of veggie is a good addition to your diet, but if you want foods that will truly bolster your heart health, then reach for dark, leafy greens. These are rich in antioxidants as well as packed with vitamins and minerals. Swiss chard, spinach, kale, and mustard greens are excellent examples of dark leafy greens. Enjoy as a salad or as a side to your main course! 
#4.) Schedule Routine Checkups
Even if you aren't the biggest fan of going to the doctor, it is crucial that you schedule routine checkups with your physician. There, you will be able to get lab work done as well as a physical. Prevention is the key to staying on top of your cardiovascular health. This is especially true if you have any family history with heart disease or have any underlying conditions. If you were once a smoker, even if you have long since kicked the habit, you want to stay up to date on your health screenings to be on the safe side. 
Senior Housing Independent Living Jacksonville
Here at Inspirations at Town Center, we want our residents to lead their happiest, healthiest lives. We pride ourselves on the luxury amenities that we offer that puts our residents' health at the very top of our priority list. From an on site fitness center, to a luxury pool, to a wealth of fun activities, we know that there is something for everyone here at Inspirations! 
To learn more about our senior housing independent living in Jacksonville or to book a tour, contact us today. We can't wait to show you the difference a luxury independent living community can make for your health and well being.