Have you ever heard of pickleball? Other than having a memorable name, it is also a fun and low impact way to stay in shape. In fact, it is one activity that is highly recommended for seniors thanks to its many health benefits! As a resident of luxury independent living, you can look forward to having year round access to beautifully maintained pickleball courts, giving you ample opportunity to play the sport. Below, you will learn more information about pickleball, including how it's played and the health benefits it has to offer older adults.
What is Pickleball?
Instead of a traditional tennis ball and racket, such as you would find when playing tennis, pickleball uses a plastic ball and paddles. It can be played using a designated pickleball court or can be played on a smaller section of a tennis court. This can be a great alternative to those who used to play tennis or simply want to participate in a tennis-like sport but in a more leisurely environment. In fact, pickleball is one of the fastest growing sports in the United States for a good reason!
Did you know that here at Inspirations at Town Center, we offer our residents access to on location pickleball courts? It is just one of the many ways that our luxury independent living promotes wellness and encourages our residents to stay fit, happy, and healthy. 
If you still aren't convinced to play. here are a few of the key reasons why you should:
4 Reasons to Check Out Pickleball
#1.) Great for All Fitness Levels
Regardless of if you have never played pickleball before, you can always get into the swing of things and start at your own pace. Pickleball is a sport that can be modified to fit your activity and mobility needs. The intensity in which you play is totally up to you! Find a partner that matches your same skill and activity level and practice with them. Or you can always work on your swing by bouncing a pickleball against a wall. For those that desire a little more competition, arrange matches with players that are up to par with you. There is no right or wrong way to approach pickleball, just make sure you are having fun!
#2.) Multiple Health Benefits
It comes as no surprise that working out and exercising regularly has many health benefits for people of all ages, including seniors. Even taking 30 minutes a day to be active and elevate your heart rate can do wonders for your overall health. Pickleball can be a fun, exciting way to stay physically active and add years to your life!
Below are just a few of the benefits you should know:
Improved Heart Health
February is American Heart Month, which means that cardiovascular health should be at the forefront of everyone's mind. It is never too late to make your heart health a priority! Playing pickleball can be an excellent way to lower your risk for cardiovascular diseases, including decreasing your risk for heart attacks. 
Lower Body Fat
If senior obesity is a concern that you have, picking up a pickleball paddle could be a solution. As mentioned above, it is a great cardio exercise. This means that it can help you to burn fat and build muscle strength. If you are feeling bored with your current exercise routine, taking a trip down to the pickleball courts could be an excellent way to to change things up!
Increased Bone Density
Did you know that falls are the number one cause of accidental death among seniors in the United States? This statistic comes directly from the Centers for Disease Control and Prevention. One of the primary reasons that falls can be so dangerous for seniors is because bone density can decrease with age. Taking a calcium supplement and staying active, such as by playing pickleball, are two ways you can naturally increase your bone density and in turn, decrease your risk of falling and becoming injured.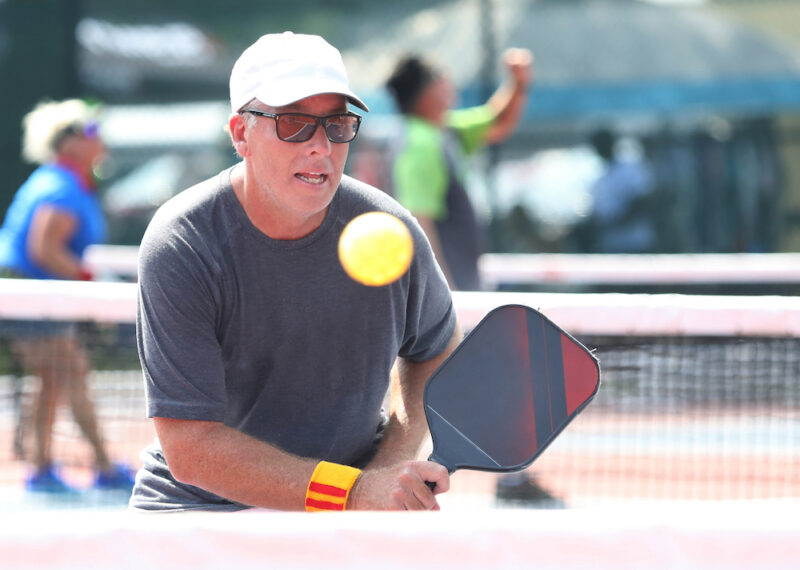 #3.) A Fun Social Activity
While you can practice pickleball individually, it is a sport that is best spent playing with others. If you are new to your luxury independent living community and want a quick way to make new friends, lace up your athletic shoes and head on down to the pickleball courts. There, you are sure to find other residents who enjoy playing the sport and you can build a quick connection from there. Cultivating senior friendships and being involved with the community is integral to having the best experience possible in retirement. 
#4.) Easy to Learn
When compared to other sports, pickleball is fairly easy to learn. You also need minimal equipment to get started. Invest in good, comfortable tennis shoes, a quality paddle, a few balls, and you're all set to go! If you have a fellow resident that is willing to show you the ropes (or net!), be sure to take them up on the offer. For those that want more formal training, research lessons in your area. Either way, you're sure to be off to a good start.
Luxury Independent Living at Inspirations
When it comes to choosing a retirement community, you want to find an environment that truly encourages you to prioritize your health and well being. By offering a wide wealth of luxury amenities to our residents, Inspirations at Town Center does exactly that, and having on location pickleball courts is only the beginning! A few other amenities we offer include an on site dog park, a spa, a variety of nutritious dining options, a spacious fitness center with state of the art weight lifting and cardio equipment, plus so much more. Not only that, but because our community is located in beautiful, sunny Jacksonville, Florida, you know that you can enjoy these luxury amenities all year round. 
If you are interested in taking a tour of our community or want more information, be sure to contact us today! We would be happy to answer any questions that you may have as well as show you just what makes us the gold standard for luxury independent living.