January is National Mental Wellness Month, which means that it's the perfect time for residents at the senior independent living in Jacksonville to focus on feeling their best! Your golden years are here and you should spend them as the happiest, healthiest version of yourself. That is why today, our team wants to provide you with a few tips that can help you to do just that! Continue reading to learn more about how you can celebrate National Mental Wellness month.
Tip #1: Eat a Healthy Diet
Did you know that food isn't just fuel for your body, but also your brain? A huge part of embracing a healthier lifestyle is to include good, quality food into your diet. Incorporate a lot of variety into your daily meals, such as whole grains, fresh fruits and vegetables, lean proteins, and healthy fats. Indulging every now and then is fine, but try to minimize your intake of junk foods, such as chips, candy, and soda. Your body and your brain will both thank you!
Tip #2: Exercise Daily
Once again, exercise isn't just good for your body, but it can really do wonders for your mental health as well. Getting up and exercising daily can boost your mood by increasing endorphins and other chemicals in your brain that help you to feel good. Plus, it also reduces stress hormones in your body in the process! 
Seniors should aim for about 30 minutes of exercise at least five days a week. Don't worry, no one is expecting you to head out and train for a marathon! Even doing light cardio can go a long way. For residents of the senior independent living in Jacksonville, try going for a stroll around our beautiful community, swimming laps in our spacious pool, or hitting up our on-site tennis courts. 
Tip #3: Spent Time Outdoors
There is nothing like a little fresh air and sunshine to make you feel better about yourself and boost your mood. As an Inspirations at Town Center resident, you are located in beautiful, sunny Florida, meaning that you can enjoy lovely weather all year round! Invite your friends out for a picnic, go for a walk by the ocean, or bring your favorite book poolside. No matter how you enjoy the sunshine, just try to get out and soak up the Vitamin D as often as you can. 
Tip #4: Socialize With Loved Ones
Senior isolation is a growing concern with many older adults. As you age, you might find yourself pulling away from those that you care about for a variety of reasons. However, socializing and staying involved with family and friends is extremely important. Surround yourself with people who care about you, check in on your health and wellbeing, encourage you when you're down, and make you feel loved. 
If your family lives far away, be sure to utilize social media and other technology to stay in touch.  Video chat, phone calls, and text messages can all be very effective ways to stay connected. For local friends and family, invite them to dinner or to join you in various activities. After all, life is better when you make meaningful memories with those you love!
Tip #5: Adopt a Pet
It is no secret that pets can be extremely beneficial to your mental wellbeing. Pets, such as cats and dogs, make great companions. They are there to cheer you up when you're down, make you laugh and smile, and can even motivate you to stay active! Plus, having a pet is a great way to make new friends. If you're a new resident to our senior independent living in Jacksonville, try taking your pup down to our on-location dog park and chatting with other senior residents! 
If you've never considered owning a cat or dog, pay a visit to your local animal shelter. Millions of amazing pets look for new homes each year, and the perfect companion could be there waiting for you! Just make sure you visit your local pet store after the adoption process is complete to pick up all the supplies you need.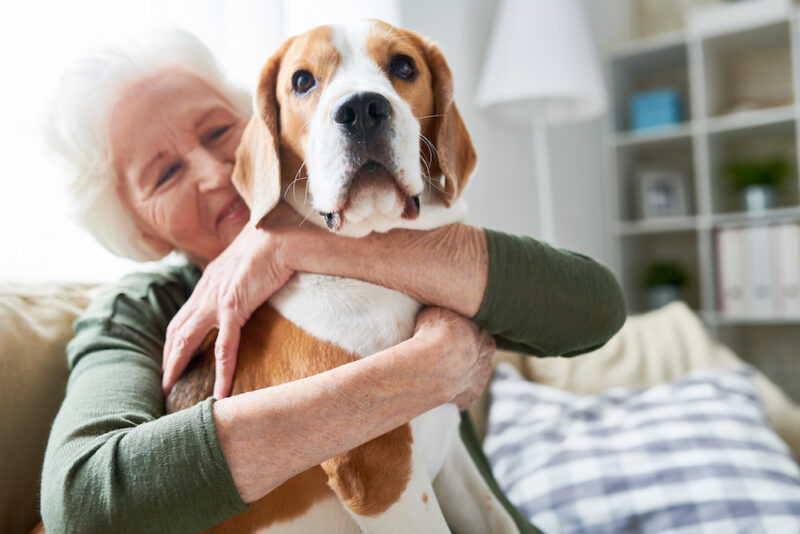 Tip #6: Cultivate Your Hobbies
One of the best ways you can improve your mental health is to stay active in your hobbies. Finding hobbies and activities that you enjoy can actually help to strengthen your memory recall, sharpen your brain, speed up information processing, and improve your overall reasoning and cognitive skills. 
There is no right or wrong answer when it comes to your hobby, either! For example, you love to do woodworking, putting together puzzles, or crocheting and sewing. Doing hands-on activities such as these can also help to soothe anxiety and leave you feeling a sense of accomplishment and bolstered self esteem. Retirement is the perfect opportunity to make time for hobbies that you didn't have a chance to cultivate before.
Tip #7: Get Enough Sleep
While for some people, this is easier said than done, getting enough sleep each night is very important. Getting adequate rest plays a very important role in mental health. When you don't get enough sleep, odds are good that you will feel tired, anxious, fatigued, and irritable the next day. When left unchecked, chronic sleep deprivation can even lead to more serious health concerns, such as hallucinations, heart issues, and memory loss.
If you're having trouble sleeping, be sure to have a conversation with your doctor. Also, there are many home methods that you try as well, such as lavender essential oil, sleeping with a sound machine on, and avoiding caffeine too late in the day.
Inspirations at Town Center – Senior Independent Living Jacksonville
Once you have retired, one of the best ways you can care for your mental wellbeing is to move to a senior living community. There, you can find plenty of new friends, participate in a multitude of stimulating activities, and spend a lot of time in nature or doing the things that you love. This January, if you haven't yet toured our beautiful community, then take time to do so! Contact us today to learn more about what Inspirations at Town Center has to offer.